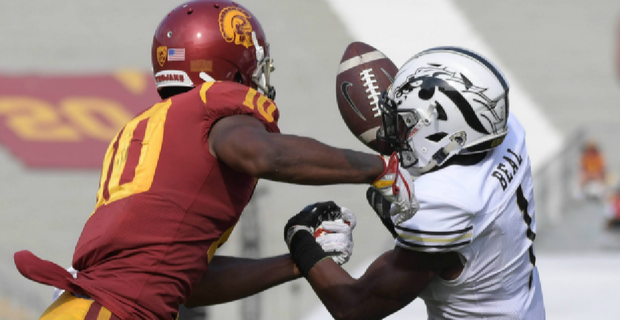 If the Giants hold the first pick in the third round, it will be disappointing, because their third-round pick (wherever it ends up landing) has already been accounted for. The Giants selected cornerback Sam Beal in the 2018 Compensatory Draft with a third-round pick at the cost of their 2019 third-round pick.
Beal had a much different offseason than any other rookie to enter the NFL. Beal didn't enter the 2018 NFL Draft but shortly after decided to enter the 2018 Supplemental Draft.
eal's college head coach at Western Michigan explained why the 21-year-old cornerback decided to return to school only to later declare for the 2018 season by entering the Supplemental Draft.
"He did a great job," Western Michigan head coach Tim Lester said on "Big Blue Kickoff Live", via Giants.com. "We brought him in and it just got to the point academically, it was getting to the percentages where [it was] too close that he wasn't going to make it. As much as I want to coach Sam again, my job is to do what's best for my players. So we brought him in and said this is your best bet right now.
"And that hurt him a little bit because he wanted to come back. A lot of scouts were telling us that if he came back, he might have been a first-round draft pick next year. So that's why they said, 'Come back because you're just going to rise and rise … and you're going to be a high, high guy.' And academically it didn't work out that way. For one month straight, he had to try to get [ready]. What most guys do in three months, he has to do in one month. He decided he wanted to train at our school with our trainer, which was awesome because there was some familiarity there and lot of guys would go ship off down to Arizona or Florida."
According to Lester, Beal is the best coverage cornerback he's ever coached.
"The biggest thing I think you're going to find with Sam is as far as a cover guy goes, he's about as good as I've ever seen in the business," Lester said. "His speed, his hips, he's long, he's a 6-footer, he can run, he can change direction. We knew when we put him in man coverage against the best receiver on the other team that it was a lock. It didn't matter whether we played USC, it didn't matter; he was a guy that athletically, with that length and speed, could cover anybody."
Beal didn't rack up interceptions at Western Michigan, but that was a product of him playing almost exclusively man coverage.
"That's the funniest thing, people who don't understand football think that in man coverage you would get interceptions," Lester said. "And that's exactly opposite. In zone coverage, the more eyes on the quarterback, the more interceptions you get. He had a couple of them. He's got to work on high-pointing the ball a little more. He's got good hands, but literally in man-to-man coverage, it's turn around and react because the ball is two feet from you. You don't get to anticipate and undercut something. His hands are good. He showed that at his pro day."
The great news is that the Giants also plan to play a lot of man coverage in 2019 with James Bettcher as the defensive coordinator.  Beal is the perfect fit for the Giants defensive scheme. Beal's ability to use his length and speed in press coverage will be a key factor in how fast he gets on the field. In Bettcher's scheme, the coordinator asks his cornerbacks to be used on an island in press-man coverage with minimal safety help over the top early and often. Beal has proven he can get this task done at the collegiate level and will now be looking to prove it at the NFL level. Beal checked in at 6-foot-1 and 185 pounds to go along with his impressive 4.47 40-yard dash speed and a ridiculous 37-inch vertical leap. He also tacked on 10 pass breakouts, 26 tackles, a forced fumble, and two interceptions during the 2017 season.