There really is not a real rooting interest for the New York Giants and their fans this weekend. However, Giants fans should be rooting for the Kansas City Chiefs to win it all.
The New York Giants are essentially rivals with zero of the four teams left in the NFL Playoffs. The Eagles and Cowboys were both bounced out, so it really shouldn't matter now.
We know that a lot of Jets fans are probably rooting for an NFC team, or anybody that isn't the Tom Brady and the Patriots.
While Giants fans could still be sick of the Patriots Empire, I think most people outside of New England are, the Giants have two Super Bowl wins against them banked. Those don't expire.
So, for Giants fans, it might not really matter who to root for.
The bitterness about the Patriots does not really exist and I wouldn't consider the Rams or Saints rivals.
However, I think Giants fans should ultimately be rooting for the Chiefs. This is because the Chiefs are now what the Giants could be very shortly.
For one, the Giants should not want another NFC team winning. That is just part of the competitive nature to being a die-hard fan.
I also understand the Chiefs are coached by Andy Reid, who Giants fans might have grown to hate because of his Philly days.
However, in terms of a football team and style to get behind, the Giants should be pulling for the Chiefs.
The Chiefs have a great offensive line. Something the Giants have been working to build.
The Chiefs have a dynamic running offense now led by who is really a third string option in Damien Williams.
The Giants have someone even better in Saquon Barkley.
The Chiefs have a freak-athlete wide out who is darn talented but been haunted by off the field problems in his past in Tyreek Hill.
The Giants have Odell Beckham Jr.
However, the real leader of the Chiefs is Patrick Mahomes, whose father actually played for the New York Mets, a reason alone to root for him.
But, the real reason Mahomes should be appealing to Giants fans is because he is the anti-Eli Manning.
It is no secret the Giants need to move on from Eli in terms of knowing he does not have much longer beyond 2019, if he even gets that far.
What Mahomes does is throw a lot of TDs (50, 50! in the regular season), slings it for a lot of yards, does not make a lot of stupid mistakes, and is mobile and can run and be really athletic.
Those are all things Eli Manning cannot do anymore.
He makes a lot of mistakes and is probably the least athletic and immobile QB I have ever watched. Making that David Tyree play all the more miraculous.
Anyway, the Giants' plan should be to draft their Mahomes, or at least attempt to.
Whether it be Kyler Murray, Dwayne Haskins, or someone else, they could see them drafting a young QB.
That young QB could sit behind Eli Manning for the season.
Much like how Mahomes sat behind Alex Smith last year, who is sort of like Eli in his own right (both not known for running, both veterans who were selected number one overall, etc.)
So, there are already a lot of ironic twists here.
Of course, the Rams are similar to the Chiefs too, but the Giants shouldn't want a team in their conference winning and gaining momentum when they will have to cross paths more often.
Drew Brees is easy to root for, he is more the exception rather than the rule, but he is also a long-tenured QB.
Plus, the Saints are not built like the Giants because the Giants do not have that kind of defense right now.
So, that is why the Giants should be rooting for the Chiefs. Their rise to prominence could be similar to the Chiefs.
They have a lot of similar players, and could play the same type of shootout football that they have not been able to do.
That is how the Giants should build and get better.
Be able to score more points and not have to rely on defense, also known as the opposite of the formula that has failed them the last few seasons.
The Giants should be aiming to be built like the Chiefs are now. That is why Giants fans should be rooting for Kansas City in the playoffs.
Not another NFC team, not any Los Angeles team, not the almighty folks from a rival sports market in New England.
Rather root for the team you play once every four years barring a Super Bowl matchup and a team you could easily be like in a few seasons.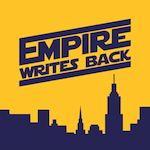 Want your voice heard? Join the Empire Writes Back team!
So, go Chiefs, I guess?